Here we will explain how to move around on the "EDITION" section of Mobincube, and to learn where to find each tool and functionality available to put together your Apps.


1. Once you have selected the App you want to work on,  you will notice a black menu bar on top of the web page.  On this bar you can choose the option "EDIT" to start developing your application: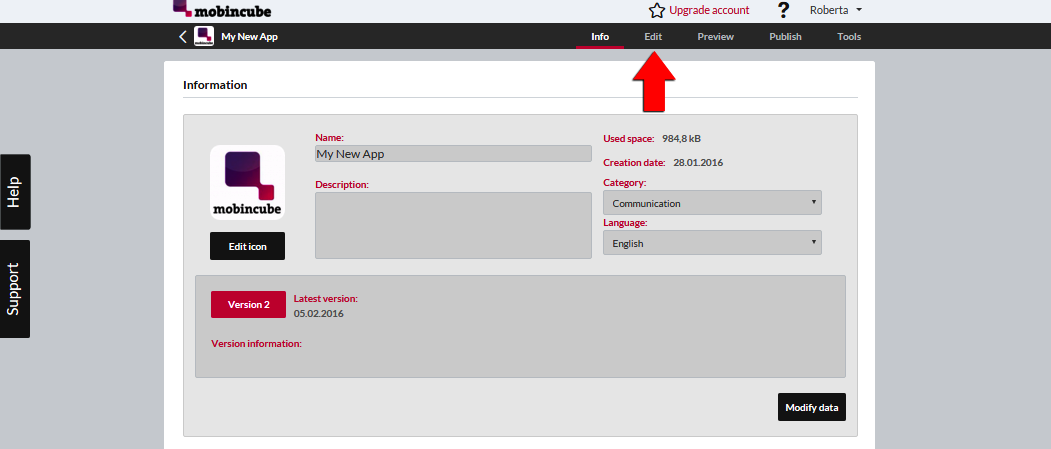 2. When clicking "edit," you will be taken to the "main screen" of your App. If you haven't created one yet you will be taken to the "choose type of screen" section: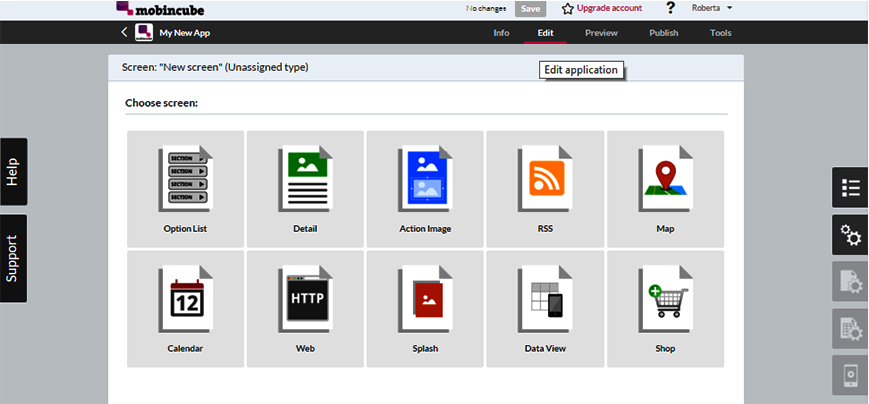 Here you can see how the edition panel is structured:
The n.1 shows you where to select a type of screen.
The n.2  shows all the screens added to your app. You can edit or delete them and you can visualize the screens in two ways: as Screen List or as Screen Tree.
The n. 3 shows 2 tabs :
"HELP" to redirect you to the support page where you will find all the articles related to different topics and tutorials.

"

SUPPORT

" to redirect you to the support team email, in case of technical problems or incidents.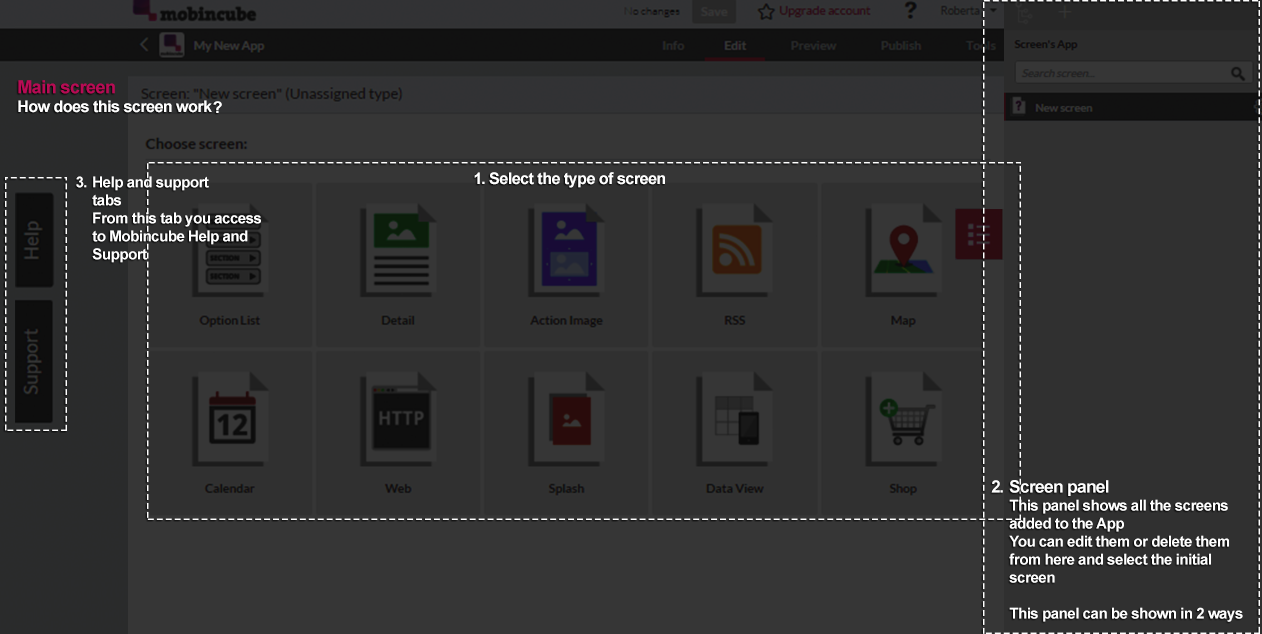 When you choose a different screen to work, the work space and the tools of the right side bar will vary. This way, the functionality you work with is different on each screen: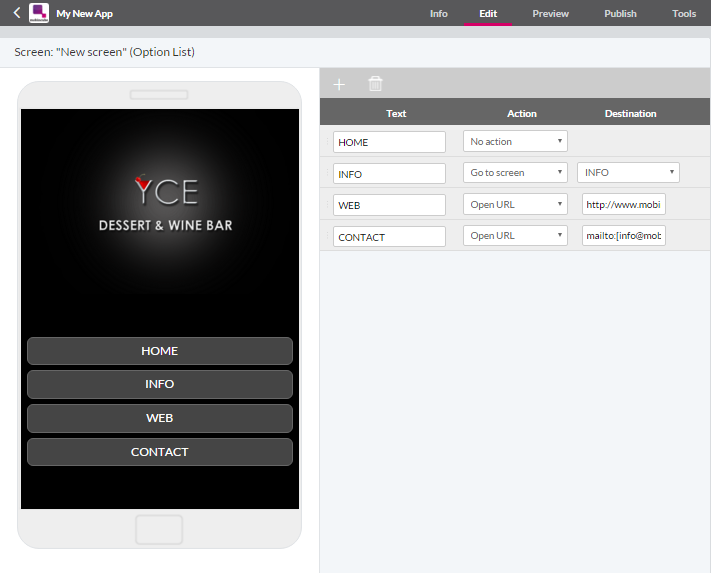 For example, in the "Option list" screen above, the tools or options aren't the same as the ones shown on the next picture which is on the "RSS" type of screen.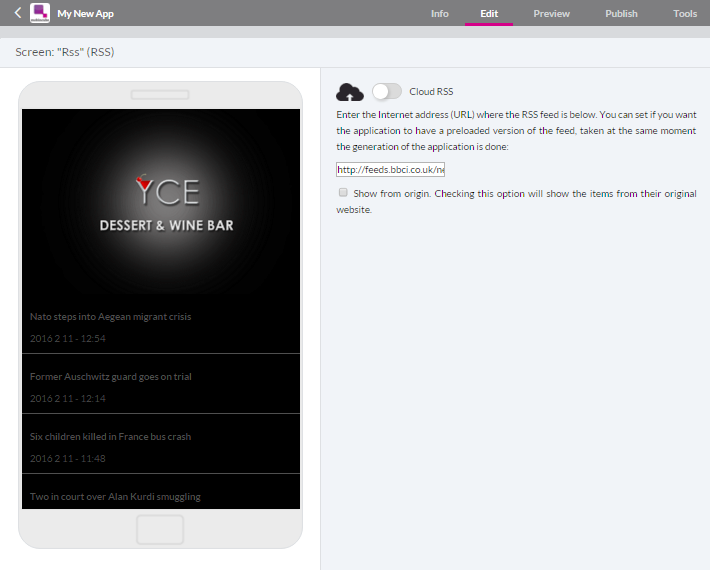 How to work with each screen is documented in detail screen by screen in the "Screen Type": 
On the "edition" area of Mobincube the screen will always show you a tool bar on the right side of the screen. From this bar you will be able to visualize and modify your App's screens, views properties, screen properties just as your App's properties.
 You will also be able to render a simulation of the functionality created on the App's screen you are working on.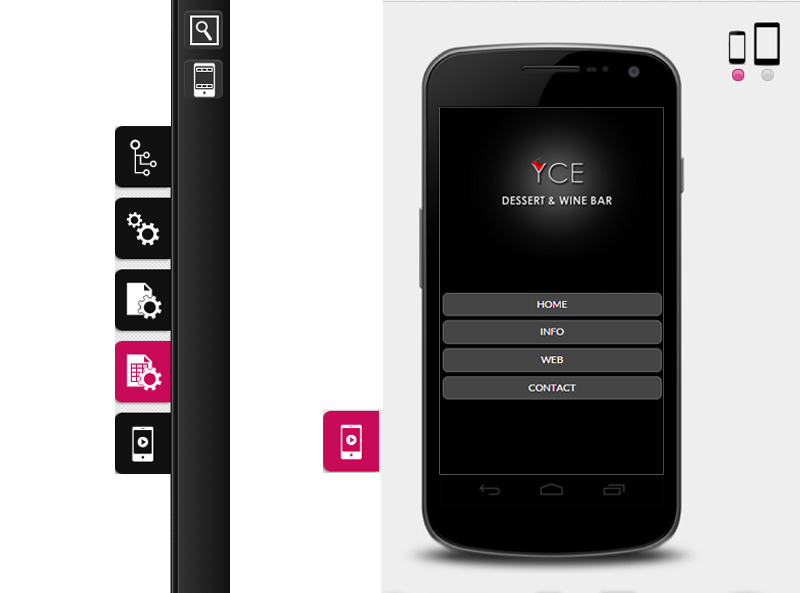 Now you know where the tools and the different types of screens are. To learn how to develop each type of screen in depth, visit "Creation and edition".