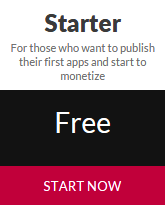 Mobincube is FREE. Yes, it is!!
With the free plan (STARTER plan), you can create as many apps as you want, using all the functionality available for app creation and you will be allowed to publish your apps on any appstores.
When you create a new account on Mobincube, you will start with the FREE plan.
WHAT'S INCLUDED IN THE FREE PLAN?
Unlimited number of apps.
You can create as many apps as you want and publish them on all platforms (Android, iOS).
Unlimited downloads.
Yes, that's true: NO limits in the number of downloads.
Unlimited disc space.
You can host unlimited resources in our server for building your apps.
Monetization.
All your apps will include ad banners and interstitial inside. But those ads will not generate revenue in the FREE plan.
Push notifications (500.000).
You can send 500.000 push notifications every month (each individual device counts as one notification). Push messages will help you increase your ad revenue and/or communicate with your customers.
WHO SHOULD USE THE STARTER PLAN?
The STARTER plan is the plan you need if: 
You want to learn how to use Mobincube before upgrading to another plan.

You want an app for your business at no cost.

You want to build an app and having ad banners inside is not a problem.
However, you should look for a higher plan if:
You don't want your apps to display ad banners.

More MAU´s

Monetize! Make money with your apps.

You need to send thousands or millions of push notifications and use the newest push notification Clevertap System Service in order to increase your ad revenue and/or communicate with your users or customers.

You want to build apps for your customers.

Your apps have online content, but you don't know how to manage that content and you want to use our Cloud tool to easily manage your online content.
You want to use GoogleAnalytics in your apps.
Related articles: