Mobincube is a free tool that allows you to:
Use all the functionality available for building your apps.

Create an unlimited number of apps.

Let people download your apps without limitations.
When using Mobincube for free, your apps will save some space for displaying 3rd party ad banners and interstitials. Those banners will generate revenue and you'll earn money.
Additionally, Mobincube offers some very affordable monthly subscription plans that will let you benefit from some premium services. Those services can be really helpful either for professional users who want to set new ways of communicating with their customers or for home users who want to increase their revenue. There are different tiers of premium plans, each one of them includes a certain number of these premium services.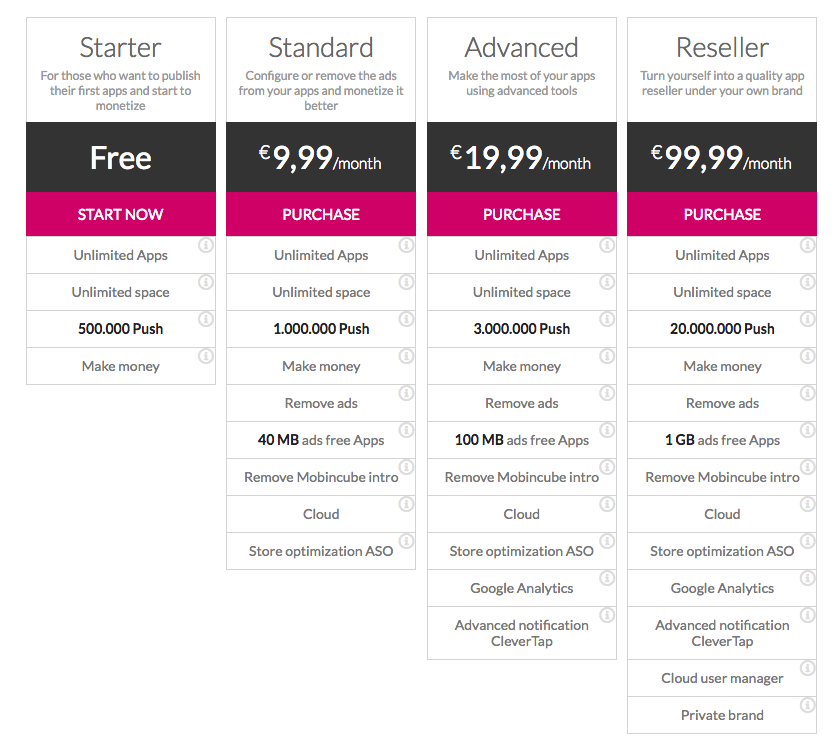 If you want to know more about the pricing of these plans, you can visit this Link
All premium plans are based on a flat rate. This means that all services included in each plan can be activated on all apps built on the same account of Mobincube, regardless of the number of apps you build.
Here you have a list of services offered by our premium plans:
It allows you to broadcast text messages to all the people that has your app installed, even if they are not using it. It is a great service for professional users that want to communicate with their customers and promote all of their news, promotions, etc. It is also a really useful service for those home users who try to earn money with Mobincube, since they can increase the number of ad impressions every time they send a push notification. Each plan of Mobincube has a maximum number of push notifications that can be delivered every month. Every single device that receives a notification counts as one delivery.
This service deactivates the advertising that is displayed by default in your apps build with Mobincube. Removing ad banners will let your apps gain a more professional look and increase the average time your customers spend on your app.
This removes the logo of the loading screen of your apps, which reduces the loading time by 2 seconds.
All resources (images, videos, audios, etc.) that you upload to Mobincube for creating apps without ads reduce the disc space on Mobincube's server. Each plan lets you use a certain amounts of megabytes of disc space. Resources uploaded to the Cloud also reduce the disc space available. However, resources used on apps with ads are considered as if they don't consume disc space.
When building apps with Mobincube you can use online content and host that content on your own server. But for those users who don't have a server, Mobincube offers Cloud, an external tool that allows them to manage the online content of their apps in an easy and intuitive way, without the need of accessing their Mobincube account.
With Cloud+, users can create sub-accounts of Cloud in order to let them manage some online resources of their apps. This is very useful for those users who use Mobincube to build apps for their customers. They can let their customers update the content of their apps without accessing Mobincube, so their customers can't see other apps in the same Mobincube account. For example, one user of Mobincube, Jason, builds an app for a restaurant and he wants the restaurant's owner to update the daily menu every day, remotely, and without accessing Jason's Mobincube account.
This service allows users to synchronize their apps with a GoogleAnalytics account in order to analyze people's behavior when browsing apps. This allows our users to optimize their app, know their audience, understand what products are more interesting to people, etc.
This service lets users customize the Cloud with their own logo, so if they create a sub-account of Cloud for their customers, nobody will see Mobincube's logo. It also allows users to activate the app download platform from any domain.
This is the newest Mobincube Tool which allows you to manage the APP ID/KEYWORDS and to generate WONDERFUL SCREENSHOTS. This tool will help your app generate a lot more downloads and position it in the best way in the Stores. 
Clevertap is the new Push notification system which allows to create, schedule, target and personalize the push notification campaign.
Artículos relacionados: